If your question isn't answered here, Contact Us and we'll be sure to answer your question right away.
What Payments Do You Accept?
We currently accept Visa, Mastercard, Amex, Paypal, Discover, Apple Pay, Amazon Pay, and checks. Prices are as seen on the website. If you are ordering for a school, we offer a 5% discount on the total price of the product you are purchasing. We do not offer a discount on freight. For more information on our school discount, please see our schools page.
Do You Accept Purchase Orders?
Yes we accept purchase orders. Place your order over the website by selecting "Net 30 Terms" in checkout and use the order confirmation email and pricing to fill out your organization's purchase order (PO). No products will be shipped until we received a signed copy of the purchase order.
You can send your completed, signed purchase order by email to sales@battingcagesinc.com or by fax to 1-800-728-8527. Please reference your new order number on your PO so we can efficiently process it the same day or next business day. We will let you know if we have any questions regarding your PO.
How Do I Apply a Coupon?
Add the items you'd like to purchase to your cart.
Select the checkout button on the cart page.
On the "customer information" part of the checkout, you'll enter your coupon code in the top right of the page inside the "discount code" input box.
Click apply and your discount will be applied to your order.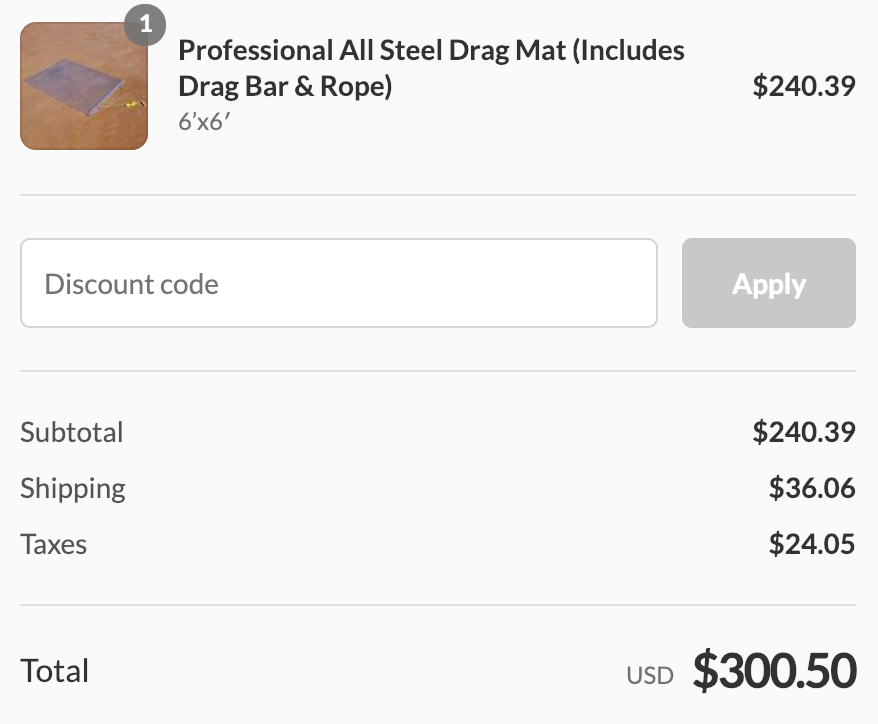 Do I Pay Sales Tax?
Only in the state of Washington. If you are purchasing outside of Washington State, you will not pay a sales tax.
How Do I Buy/Redeem a Gift Card?
If you'd like to purchase a gift card, please give us a call at (800) 463-6865 and we'll be able to assist you over the phone. All gift cards are handled electronically so you will not receive an actual card. After purchasing a gift card, you'll receive it electronically via email and they can be used whenever you'd like. Gift cards do not expire.
Free Shipping?
Batting Cages, Inc. offers free shipping on most of our products. Free shipping is only offered within the 48 contiguous United States.
How Do I Estimate Shipping Charges?
If you'd like to see exactly what shipping will be, feel free to use the shipping estimator located on the cart page.
Once you've added an item to your cart, go to your cart.
Look right below the "subtotal" and you'll see "Calculate shipping".
Click that link, put in your state/zipcode
Click the orange "calculate shipping" button and you'll see the shipping cost located below.

Where Do You Ship?
We currently only ship inside the USA.
Delivery Times - When Can I Expect To Receive My Order?
Over 95% of our orders ship within 24 business hours via FedEx ground. Shipping times can vary depending on the product. For most standard items, your products are sent from our location in Washington state. Please refer to the chart below for approximated shipping times. If your item is oversized or overweight, we may be required to ship it by truck.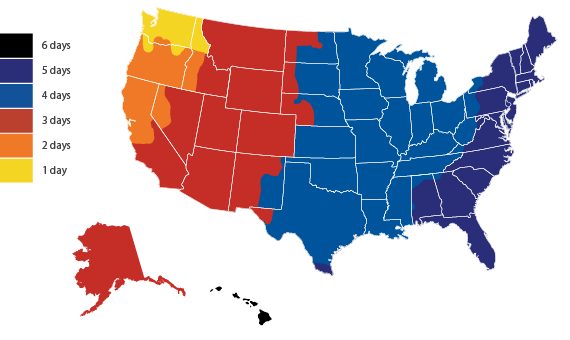 When Will My Order Ship?
Over 95% of our orders ship within 24 business hours via FedEx ground. Shipping times can vary depending on the product.
Is My Order Insured?
Most shipments are insured. If you'd like to know if your packages is going to be insured or would like to insure your package, please give us a call (800) 463-6865 and we can help you.
Is a Signature Required For My Order?
By default delivery signatures are not required. If you'd like to sign for your packages, please indicate that in your order notes on the cart page before placing your order. If you forget to leave a note, please call us (800) 463-6865 and we'll add the note for you if your item hasn't already shipped.
Has My Order Shipped?
We send out a shipping confirmation email to you once your package has been shipped. Check that email and it'll show when the item shipped and your tracking number(s).
How Do I Make Changes To My Order?
If you need to make a change to your order, give us a call (800) 463-6865 and we'll handle your changes over the phone with you.
Please note: If you are swapping out an item for another item, removing an item or making billing adjustments, we'll have to cancel your existing order, refund your money and then charge you again for the new order. Refunds could take up to 10 business days depending on your bank.
How Do I Track My Order?
You will be able to track your package via FedExe's package tracking page. If you have any questions regarding where your package is at, give us a call (800) 463-6865 and we help figure it out for you.
Return Policy
BCI products are manufactured in our 50,000 sq. foot facility in Everson, WA USA, at ISO 9002 certified manufacturing facilities in India, and at BCI certified manufacturing facilities around the world. We rarely have to deal with warranty issues and defects.  
In case of defects
Our policy is to promptly repair or replace at our option products that are defective in materials or workmanship. Return the product to us, and we will pay for the shipping back to you. Netting products do incur normal wear and tear, which is not considered a defect.
Disclaimer: Weather related damage (wind, snow, etc.) to batting cage poles are not covered or considered a defect. Mastodon poles include a 20 year limited warranty.
Changed my mind
If the product isn't defective, but you simply changed your mind, we will still accept returns on most items, provided they are returned to us within 45 days. Such returns are subject to a restocking fee which varies from 20% to 30% depending on the product. Product must be unused, in its original packaging. In these situations we don't reimburse your shipping charges.
Custom Orders
For custom orders we can't accept returns, nor can we accept order cancellations after we have cut the netting.
Inspect your Delivery 
If we don't hear from you within 45 days of delivery, we will consider that silence your acknowledgement that the order was delivered correctly. Please inspect your items immediately upon its delivery so that you can identify problems or shortages.
No returns will be accepted without prior approval.
I Have Questions Regarding My Charges
If you see something isn't right on your billing statement or confirmation email, please give us a call (800) 463-6865 and we'll help answer your billing questions.
If you see a double charge, please wait a few days to see if the double charge falls off your bank statement before calling us.
I Need a Copy Of My Receipt/Invoice
If you'd like a copy of your receipt/invoice, give us a call (800) 463-6865 and we'll get that emailed over to you while we're on the call with you.
If you have a user account with us, login to your account and you'll see your receipts/invoices that you can download at your own convenience.
How Do I Create An Account?
You can create an account by clicking the login button at the top right of the site on the menu bar. Once on the login page click the "create account" button, input your information and click submit.
Once you have created an account you will be able to manage your billing/shipping information and have access to your past orders invoices/receipts.
How Do I Edit My Account Information?
If you need to make a change to your account information, login to your account and from there you'll be presented with options to update your profile, billing information and shipping information.
I Forgot My Password
If you've misplaced or forgotten your email you can reset it by going to the account login page and click the "forgot your password?" link. Enter your email and you will have a new password emailed to you.
Privacy Policy
This Privacy Policy describes how your personal information is collected, used, and shared when you visit or make a purchase from www.battingcagesinc.com (the "Site").
Personal Information We Collect
When you visit the Site, we automatically collect certain information about your device, including information about your web browser, IP address, time zone, and some of the cookies that are installed on your device. Additionally, as you browse the Site, we collect information about the individual web pages or products that you view, what websites or search terms referred you to the Site, and information about how you interact with the Site. We refer to this automatically-collected information as "Device Information".
We collect Device Information using the following technologies:
- "Cookies" are data files that are placed on your device or computer and often include an anonymous unique identifier. For more information about cookies, and how to disable cookies, visit http://www.allaboutcookies.org.
- "Log files" track actions occurring on the Site, and collect data including your IP address, browser type, Internet service provider, referring/exit pages, and date/time stamps.
- "Web beacons", "tags", and "pixels" are electronic files used to record information about how you browse the Site.
Additionally when you make a purchase or attempt to make a purchase through the Site, we collect certain information from you, including your name, billing address, shipping address, payment information (including credit card numbers), email address, and phone number. We refer to this information as "Order Information".
When we talk about "Personal Information" in this Privacy Policy, we are talking both about Device Information and Order Information.
How We Use Your Personal Information ?
We use the Order Information that we collect generally to fulfill any orders placed through the Site (including processing your payment information, arranging for shipping, and providing you with invoices and/or order confirmations). Additionally, we use this Order Information to:
- Communicate with you;
- Screen our orders for potential risk or fraud; and
- When in line with the preferences you have shared with us, provide you with information or advertising relating to our products or services.
We use the Device Information that we collect to help us screen for potential risk and fraud (in particular, your IP address), and more generally to improve and optimize our Site (for example, by generating analytics about how our customers browse and interact with the Site, and to assess the success of our marketing and advertising campaigns).
Sharing Your Personal Information
We share your Personal Information with third parties to help us use your Personal Information, as described above. For example, we use Shopify to power our online store--you can read more about how Shopify uses your Personal Information here: https://www.shopify.com/legal/privacy. We also use Google Analytics to help us understand how our customers use the Site -- you can read more about how Google uses your Personal Information here: https://www.google.com/intl/en/policies/privacy/. You can also opt-out of Google Analytics here: https://tools.google.com/dlpage/gaoptout.
Finally, we may also share your Personal Information to comply with applicable laws and regulations, to respond to a subpoena, search warrant or other lawful request for information we receive, or to otherwise protect our rights.
Behavorial Advertising
As described above, we use your Personal Information to provide you with targeted advertisements or marketing communications we believe may be of interest to you. For more information about how targeted advertising works, you can visit the Network Advertising Initiative's ("NAI") educational page at http://www.networkadvertising.org/understanding-online-advertising/how-does-it-work.
You can opt out of targeted advertising by using the links below:
- Facebook: https://www.facebook.com/settings/?tab=ads
- Google: https://www.google.com/settings/ads/anonymous
- Bing: https://advertise.bingads.microsoft.com/en-us/resources/policies/personalized-ads
Additionally, you can opt out of some of these services by visiting the Digital Advertising Alliance's opt-out portal at: http://optout.aboutads.info/.
Do Not Track
Please note that we do not alter our Site's data collection and use practices when we see a Do Not Track signal from your browser.
Your Rights
If you are a European resident, you have the right to access personal information we hold about you and to ask that your personal information be corrected, updated, or deleted. If you would like to exercise this right, please contact us through the contact information below.
Additionally, if you are a European resident we note that we are processing your information in order to fulfill contracts we might have with you (for example if you make an order through the Site), or otherwise to pursue our legitimate business interests listed above. Additionally, please note that your information will be transferred outside of Europe, including to Canada and the United States.
Data Retention
When you place an order through the Site, we will maintain your order information for our records unless and until you ask us to delete this information.
Changes
We may update this privacy policy from time to time in order to reflect, for example, changes to our practices or for other operational, legal or regulatory reasons.
Contact Us
For more information about our privacy practices, if you have questions, or if you would like to make a complaint, please contact us by e‑mail at sales@battingcagesinc.com or by mail using the details provided below:
Batting Cages Inc
[Re: Privacy Compliance Officer]
Batting Cages Incorporated, LLC, 401 Lincoln St., Everson WA 98247, United States
Security
We are committed to ensuring that your information is secure. In order to prevent unauthorized access or disclosure, we have put in place suitable physical, electronic and managerial procedures to safeguard and secure the information we collect online.