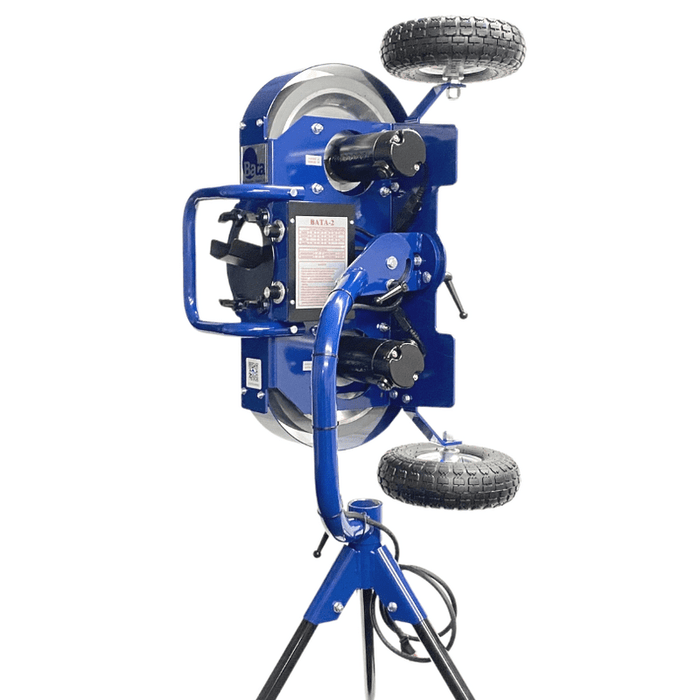 BATA-2 Pitching Machine (Refurbished)
Sold out
Original price
$2,399.00
-
Original price
$2,449.00
The refurbished BATA-2 Pitching Machine stands as a premier option for baseball teams and individuals of all levels. This reliable machine showcases its abilities by delivering all types of pitches including fastballs, curveballs, sliders and more, with the capability of reaching speeds of up to 100 miles per hour. The BATA-2 remains a highly versatile training tool, allowing coaches and players to fine-tune their skills in handling grounders and flyballs.
An outstanding feature of the BATA-2 lies in its resilient rubber pitching wheels, specifically designed to accommodate regular, low seam, or dimpled baseballs/softballs. The best results, however, emerge when using low seam and dimpled balls, ensuring players practice with the same type of balls they'll encounter in actual games, thereby honing their accuracy and skill.
Durability and user-friendliness characterize the BATA-2, featuring a 3-way swiveling head that permits a broad range of pitching angles. Proudly manufactured in our USA facility, the BATA-2 comes with an inclusive 10-year limited warranty, assuring its lasting performance.
NEWLY ADDED TRANSPORT KIT
Whether you're an aspiring coach seeking to enhance your team's proficiency or a dedicated player striving to elevate your game, the BATA-2 Pitching Machine stands as an exemplary choice. Boasting the capacity to handle real leather baseballs and an array of pitches, this machine serves as a paramount tool for anyone aiming to elevate their on-field performance.
Refurbished (minor scratches)
Pitches 25-100 mph
Weighs 118 lbs
Includes transport kit
Throws all types of pitches
Throws grounders and pop flies
3-way swivel head
Runs on 110 AC
10-year limited warranty
Goodyear rubber pitching wheels