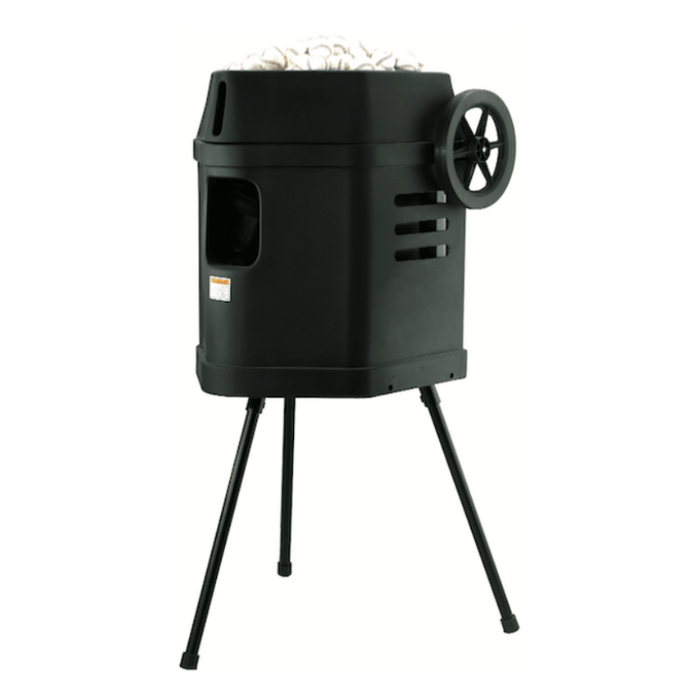 Ultimate Home Plate Pitching Machine
SKU
SPORTS TUTOR BB 3PLAY ULTRA
Call to order: 1-800-463-6865
Shipping is calculated at checkout
Save

$0.00
Save

$-9,695.00
Original price
$9,695.00
-
Original price
$9,695.00
Programmable Pitching Machine

The Ultimate Home Plate Triple Play pitching machine can simulate almost any pitcher that you are likely to face. It can throw a 90 mph fastball, followed by a 75 mph curve, followed by a change-up, followed by a slider. And it can do it all automatically with only seven seconds between pitches. Put that scouting report on your next opposing pitcher to real use by programming his pitches into the Home Plate machine, then select random pitch order to simulate that pitcher for a game-like practice. The Home Plate machine can also throw stored pitches in sequential order, or you can practice repeatedly against any individual pitch.
This machine is completely programmable, allows you to randomize pitches, or design a custom teaching program. Direction, elevation, break, and speed are all controlled by an intuitive computer control board. Need to raise the pitch higher in the strike zone? Just press the up button, and store the pitch in one of eight programmable memory locations. Your stored pitches can be any combination of fastballs, curves, sliders …whatever you want!
The Ultimate Home Plate Pitching Machine uses a patented three-wheel pitching mechanism that is more accurate than two wheels because it puts more gripping surface on the ball. It also features an innovative sound and light system designed to help batters time the pitches, as well as enhance safety. About two seconds prior to each pitch the Home Plate machine will beep, which warns everybody near the machine that a pitch is coming. The batter sees a sequence of three lights just above the exit point - giving him visual cues comparable to a live pitching motion.
The sequence is as follows: Beep (the pitcher sets), Red light blinks (the pitcher starts his motion), Yellow light blinks (the pitcher winds up), Green light blinks (the pitcher arm is coming forward) and finally the ball is released.
Features
Automatically pitches as often as every 8 seconds (mixing pitch types and speeds may increase interval)

Includes an 80 ball top-load hopper

Program balls and strikes for pitch discrimination drills
Simulate opposing pitchers for more realistic practices
Repeat, Sequence, and Random pitch modes
Programming takes less than 30 seconds per pitch
Pitches are stored for future use
Pre-pitch beep & light sequence help batter time pitches
Specifications
Pitch Speed 40 to 90 MPH
Recommended balls 9in Low Seam Real Baseballs
Auto Pitch Modes Repeat, Sequence, Random
Programmability 64 pitches in 8 programs
Ball Exit Height 50in to 60in adjustable
Power 115V grounded outlet
Warranty: 2 years
Dimensions 30inW x 32inD x 62in-72inH
Weight 190 lbs